Next Delivery Tuesday, March 28, 2023
Blueberry Pop Tarts
Posted on July 22 2016, By: Elissa Childers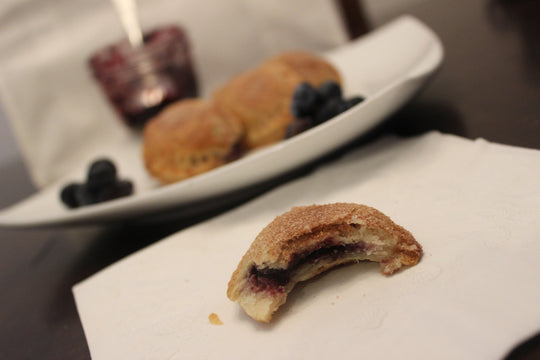 Every night as I am cooking I hear a little voice cry out from the living room "Mommy, can I cook with you?" My daughter, Ava!
Ava is 2 years old soon to be 3 but wants to do everything grown folks do. As a mother my mind automatically finds all the dangers involved with her helping me. As a chef I have a sense of pride that she wants to follow in my footsteps. So I clear the counter of all the toddler killing appliances and replace them with Ava's cutest mini utensils.
Recently we had a good friend give us some homemade blueberry jam. She had gone blueberry picking with her daughter and came home with an abundant amount of blueberries. She turned some of it into jam and was kind enough to share. When I receive great ingredients like this I immediately start thinking of what I can do with it.
I am constantly searching my cabinets for a quick non perishable snack to give Ava. I prefer homemade but even as a chef this isn't always possible. Second best option is anything without loads of sugar and preservatives... good luck with that, right? It is hard to find those kinds of snacks in a grocery store. I like the idea of pop tarts but it goes without saying that they are packed with these forsaken ingredients. Ava and I decided to make our own and share our fun times and yummy eats with our friends. Enjoy and remember PORTION CONTROL!
BLUEBERRY POP TARTS
Ingredients:
2 each Pie Crust (all the power to you if you make your own but for convenience you can use Pillsbury's pie crust or Immaculate Pie Crusts that is in the refrigerator section of the grocery store. It comes 2 to a box.)
1/2 cup Blueberry Jam (you can use whatever flavor jam you would like, preferable homemade or from your local farmers market. Depending on the size of your pop tarts you may need more or less. We made mini ones.)
4 ounces Plain Cream Cheese. (Again depending on the size you may need more or less. You can also get creative and use a flavored cream cheese like Strawberry.)
1 Egg
1 Tblsp Cinnamon
3 Tblsp Sugar
Directions:
1. Preheat oven to 400 degrees
2. Unroll both of the pie crusts so that it sits flat on the surface. Using your biscuit cutter cut out the pie crusts (we used the second largest biscuit cutter in our set). Re-roll out the scraps of pie crust and cut until you have no pie crust left.
3. Soften the cream cheese till it is easy to work with. You can soften it by leaving it out at room temperature for 20 minutes or by microwaving it for 30 seconds. Once it is softened stick it in a ziplock bag. Cut one of the bottom corners of the bag so that it creates a piping bag.
4. Take half of the pie crust cut outs and pipe the cream cheese 1/4 of an inch away from the edges
5. Fill inside the cream cheese with your jam of choice. Ours was 1 Tbsp of Jam in each pop tart. Yours may be more or less depending on the size. 
6. Take the other half of the pie shells and place them on top of the filling.
7. Using a fork press down on the outside edges so that the pie shells are sealed together. 
8. Whip the egg and brush the top of the pop tart with the whipped egg
9. Combine the cinnamon and sugar in a bowl. Sprinkle the mixture over the egg washed pop tarts
10. Place in the oven and bake for 15-18 minutes or until lightly browned
FINGER LICKING GOOD!

Kitchen tools used in this recipe that I stand behind
Silicone Baking Mats

-

These mats are by far my favorite piece of equipment that I own in the kitchen. They are used to line your sheet pan. They replace cooking spray like PAM and/or wax paper. They are reusable which saves you money. They are durable, long lasting and the easiest thing to clean. You will never scrub a sheet pan again. Food just slides right off of them. I cook everything on them from cookies to bacon to chicken and everything in between. The Silpat is a little pricier than other silicone mats you may find but it is the one I have always used and the one I stand behind. The Silpat mats I have in my drawer have been with me for 8 years and they are still in almost new condition.

 
 I have never used the Artisan. It is a lot cheaper and that worries me. I am one that believes "you get what you pay for". It is the same idea but I have never purchased this one before so I am not sure of its quality. I have owned a cheaper mat before and the one I owned got thrown away after a month. I didn't like that it left residue marks and that it pooled up with grease from the cookies I was making. 
Mini Kitchen Utensils

-

Ava has the cutest little toddler hands. It is hard for her to control the big utensils I use so I find these mini ones not only adorable but also useful for her. She thinks they are cute and colorful too! They are dishwasher safe and don't take up as much room as the regular sized ones. I find myself using them more than the big ones for small projects. I don't want to whip one egg with a big whisk so I will use the mini one I had originally bought for Ava.


 



Biscuit Cutters

-

I am not a fan of kitchen gadgets. I find they take up unnecessary space and no one uses them. You will never see me stand behind something like a quesadilla maker. It is a gadget! I can do the same thing with my skillet plus more!




That is how I felt about biscuit cutters, I can do the same thing with a cup. Then I hired an assistant (who has a background in baking) and she was begging me for a biscuit cutter and now I know why. First the cutters come in different sizes (set of 5) so I am not tearing my kitchen apart searching for the size I want in cups. Second (for some reason, I am not a scientist) when you use a cup to cut a product that rises the product ends up rising like the Leaning Tower of Pisa. When you use the biscuit cutter the product ends up standing tall. Third and last reason I like the biscuit cutter instead of a cup (this is the most important reason to me): If you cut the product with a cup the product tends to get stuck inside the cup and you have to use your fingers to pry it out which can ruin your perfect circle. The biscuit cutter has an opening at the top so it doesn't create a suction, therefore; the product stays on the surface of your cutting board, countertop or sheet pan.